We are here to make sure you and your colleagues are kept safe and operational.
If your current service provider can not respond quick enough to your needs then please call us. Our nationwide team of experienced service engineers who work on a 24/7 basis can help!
The Loading Systems ethos is 'WeTakeCare'. This means taking care of our clients as well as taking care of our people!
In order to do this it is vital that you continue to maintain, repair and service your loading bay equipment and industrial doors.
As per HSE guidelines you are obliged to comply with LOLER which means mandatory 6 and 12 month inspections for all lifting equipment.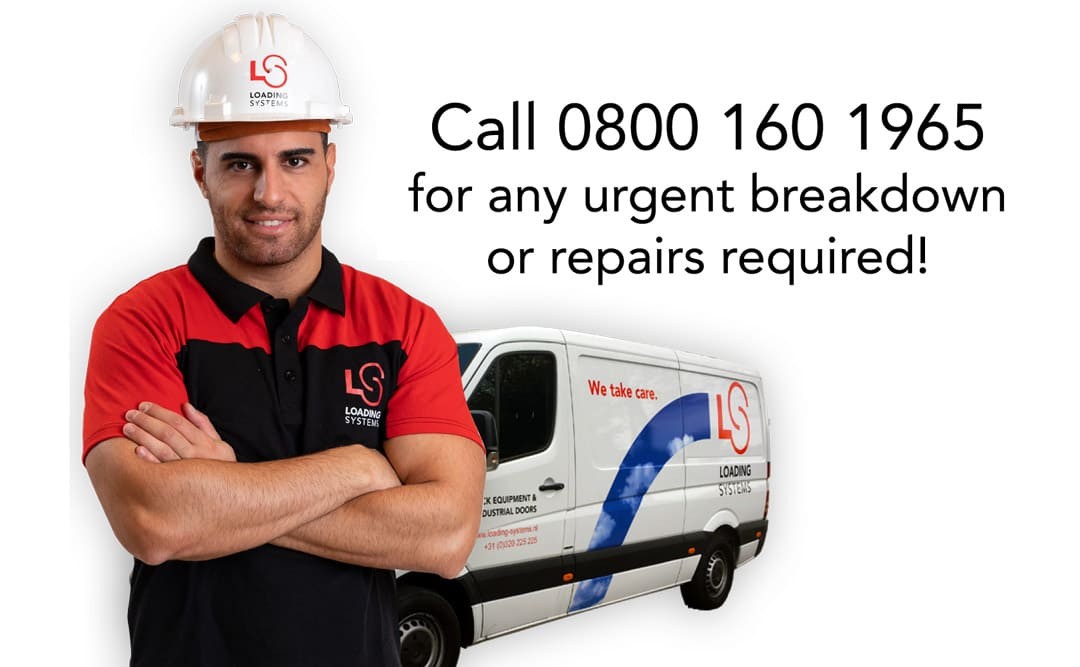 For further information on the HSE and Safe Contractor guidelines in place please click the links below:
If you would like answers to any further questions you may have or to know how our solutions may help your business, please contact us on 0800 160 1965 or email wetakecare@loading-systems.co.uk
We want to thank you in advance for putting your trust in Loading Systems on what we are doing to keep you safe and operational.
We take care.
 
---
Loading Systems Service Agreements
Loading Systems believes that a disciplined maintenance regime will ensure compliance with manufacturer's warranty conditions and minimise the risk of any premature failure of components and equipment. 
Taking out a Service Agreement with Loading Systems will futureproof the efficiency of your equipment and reduce the cost of ownership of your doors and loading bay equipment by minimising the need for expensive repairs or replacement parts.
At Loading Systems we pride ourselves on operating our Change Parts In Time (CPIT) programme as part of our PPM packages. This ensures that components with known life expectancies, such as hydraulic hoses and wearing parts, are replaced during service prior to any failure reducing the likelihood of costly downtime and ensuring the continuous, efficient and safe operation of your business. 
At Loading Systems we have 3 key objectives in supporting our customers:
Minimise operational downtime

Reduce maintenance costs

Ensure Health and Safety compliance
"Our service delivery has also accelerated our growth. We consistently outperform our competitors in after-sales service, particularly through our 24/7 response times and high first fix rates which have reached 97%"

Rob Fay, Easilift Loading Systems
"All has gone very well as usual, your visiting engineers were punctual, polite and left the site in a good tidy fashion.  No doubt we will be a calling you again for any other requirements." 

MHE Manager, Tesco