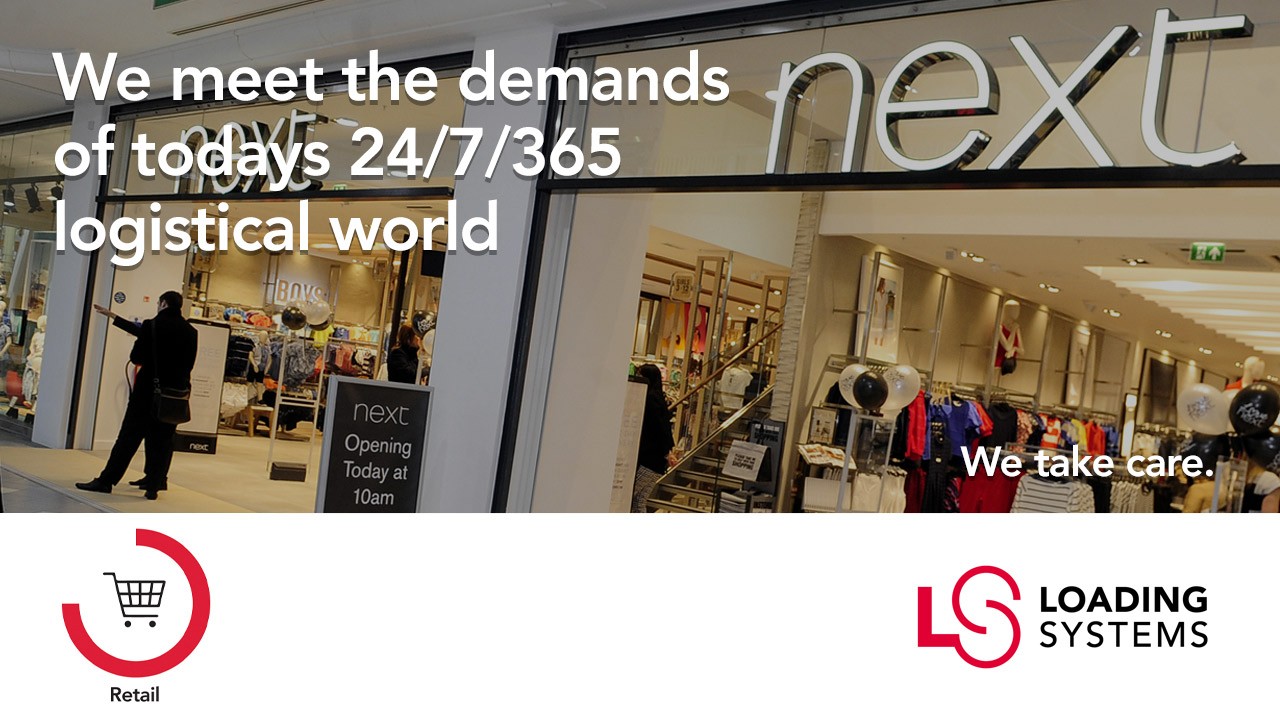 When you choose Loading Systems you can be assured of a safe and cost effective reliable solution that meets the demands of today's 24/7/365 logistical world.
How have we served the requirements of retail? 
We recently supplied Pound World with a safety dock management system that prevents unintended vehicle drive off. The high frequency of deliveries meant that they needed to install a safety system that would minimise human error, ensure vehicles were directed to the correct bays and ensure safe continued operations at all times.
At Next in Doncaster we installed 50 vehicle restraint systems to reduce unintended vehicle "drive off" and prevent the risk of accidents and fatalities. The Loading Systems 505 Wheel-lock restrains the vehicle during the loading and unloading cycle by locking the wheels of the truck and only releasing it when the loading-unloading cycle is completed and the loading bay door closed.
Ask us about our far-reaching and specialised services today
The health of the retail sector has always been dependent to some extent on the health of its supply chain. This is why it is so important for businesses in this industry to work with only the most reputable loading bay equipment suppliers.
We are pleased to have precisely this status here at Loading Systems, as built up over many decades of operation.
Today, retailers with wide-ranging requirements turn to us for all manner of products and services that are crucial to the ongoing optimisation of their logistics.
Your own firm might initially approach us with an interest in the custom design and manufacture of dock shelters, dock levellers or lifting platforms, only to realise that we also possess considerable expertise in modernising and upgrading such loading bay equipment.
Furthermore, we are highly respected for our well-resourced and forward-thinking approach to preventative and reactive maintenance. These services, too, are vital, for minimising downtime and maximising equipment lifespan.
To learn more about everything we can do for your retail firm's logistics operations, don't hesitate. Instead, call Loading Systems now on 0800 160 1965, so that we can give you the benefit of a competitive quote.
"We re-launched our Carlisle store this morning 22nd December at 8am, following the devastating floods we experienced on 6th December. I would like to personally thank you on behalf of the business, for the support and lengths that you and your business went to enabling us to get the store open for the residents of Carlisle. The feedback from within our business and customer's alike has been one of amazement.  The colleagues and residents of Carlisle have a store to be proud of and this could not have been done without your support and hard work."

Store Manager, Major UK Supermarket