The efficiency and dependability of your organisation's logistical supply chain hinges on only the most suitable loading bay equipment being used – and there's no question that industrial doors play a key role here.
The value that your company ultimately gains from its industrial doors will, of course, partly depend on you sourcing the right industrial doors to begin with. From overhead doors and high-speed doors to fire doors and industrial curtains, we can supply a wide range of unparalleled solutions.
However, there are also so many other aspects of our service here at Loading Systems that can be integral to keeping your industrial doors operating without fuss or interruption, continually and at the highest levels.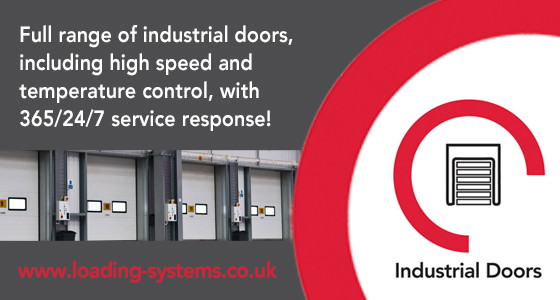 From servicing to maintenance and repair, we take a proactive approach
As is the case with our other key categories of loading bay equipment, industrial doors sourced from Loading Systems can be supported by a variety of servicing, maintenance and repair options.
Take out a Service Agreement with us, for instance, and your organisation can benefit from our distinctive Change Parts In Time (CPIT) programme for its industrial doors, with certain components being replaced during service before they are allowed to fail.
Our CPIT approach is key to us realising our objectives of supporting our customers through the minimisation of their operational downtime, the reduction of their maintenance costs and ensuring that they remain in compliance with all relevant Health and Safety requirements.
But free inspections can also be undertaken of your loading bays by our well-trained experts, and if they are required, our industrial door repairs are also of the very highest standard. We use vehicle tracking technology, for example, to locate nearby technicians who can then respond to your request to ensure the industrial door repairs you urgently require are undertaken promptly.
Those vehicles in question are fully stocked with tools, equipment and spare parts to keep our first-fix rates among the very best in our field. This, as well as the formidable knowledge, skills and experience of our professionals, further helps to reduce any downtime periods and costs.
Ask us about our expertise in all things industrial doors
Organisations from across the sectors that depend on the sustained trouble-free operation of their industrial doors deserve the supporting services that will enable them to achieve this – and which Loading Systems can provide across the categories of servicing, repair and maintenance.
With a five-year extended warranty also being provided on all of our new equipment, your company has plenty of good reason to contact our team to enquire about our full range of products and services.
Call us today on 0800 160 1965 or complete the form below to request your free inspection.