The optimum loading bay is safe, efficient, but also sustainable. A dock shelter is of great importance here as it provides optimum sealing. The latest generation inflatable dock shelter offers the perfect solution.
Smart, sustainable buildings with an inflatable dock shelter
The inflatable dock shelter is the most efficient and durable way to seal a loading and unloading bay. The shelter has a sophisticated harmonic action of the cushions that creates an optimal seal. This makes the inflatable shelter ideal for a loading bay where there is a large variety of vehicles. The cushions mould themselves completely to the vehicle. This protects the interior temperature from external influences. In short, the shelter is ideally suited for conditioned environments.
Unique concept; adjustable fan
Our inflatable dock shelter moulds itself completely to the vehicle and is easy to operate by means of a single push-button on the control box. As soon as a vehicle comes to a stop, the fan can be activated. Within 20 seconds, the space between the warehouse opening and the lorry is sealed.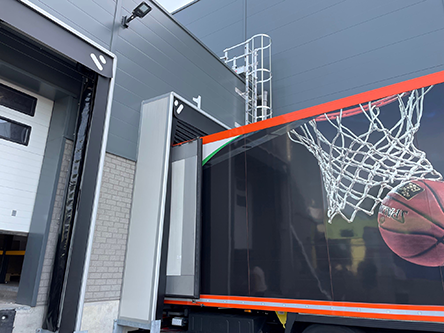 And unique to our system: the adjustable fan blows up the shelter and automatically adjusts the speed to the amount of air needed. This reduces energy consumption by up to 35%!
Durable materials
The inflatable dock shelter with its unique design not only provides a seamless seal but is also made from the most durable materials.
Fixed frame with scratch and impact resistant insulated panels
Hot-dip galvanised protective consoles
Finished with aluminium profiles
CE certified
Reduce the ecological footprint of your building - BREEAM compliant
The inflatable dock shelter is ideally suited for industries such as cold storage, pharmaceuticals and food industry. By using the dock shelter you can easily create a sterile environment. Insects and small particles are no longer a problem. Due to the durable cushions, the dock shelter is not subjected to the forces of a truck, which makes the dock shelter last considerably longer.
Finally... an aesthetic finish!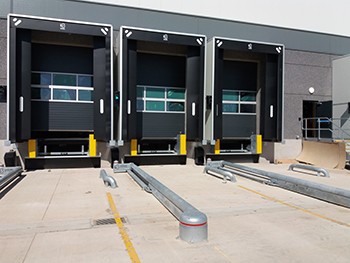 Not unimportant, the aesthetic finish of the inflatable dock shelter. The loading bay is the interface between the outside world and the world of the company. Through aesthetic solutions, you ensure that the building has a professional appearance. When the inflatable dock shelter is not in use, the cushions are stored behind the protective stripes. This provides a very aesthetic finish, but also scores well on safety. The driver has a good view during the docking and the shelter is not exposed to the collision forces of the truck.
Curious about the possibilities?
Curious about the advantages of a dock shelter? Then read our blog about choosing the right dock shelter. Would you rather contact one of our experts? Fill in the form and we will contact you as soon as possible!