Saving energy is one of the most discussed topics these days. But how can you easily save energy? A Loading Systems high-speed sectional overhead door will more than pay for itself in the long run. Make sure that your building is insulated for the winter in good time.
High-speed sectional overhead door - for unbeatable energy savings
When you need to buy an industrial door, what is the most important factor that can help you save the most? Panel thickness, panel colour, or door height? In fact, it is none of them. The door opening and closing speed are the most crucial factors for energy savings. The high-speed sectional door is actually two doors in one. The door combines the excellent insulating properties of a traditional overhead door with the speed of a high-speed roll door. So you will never have to compromise again.
Up to five times faster than average! For companies where speed is crucial.
With high-speed roll-up doors you increase operational efficiency, because with an opening speed of 1.4 meters per second, our doors do exactly that! The door is specially designed for companies that want their goods to flow efficiently, quickly but also safely. Due to the new technical design, the door is not only fast but also extremely durable. The high speed of opening and closing ensures a faster passage. In addition, the door has very good thermal insulation properties. The result? Considerable energy savings in heating or cooling and an improved working environment.
High quality and reliable materials
Time is money. Every second saved by opening and closing is more time to do business. The high-speed overhead sectional door is therefore equipped with high-quality materials to ensure a productive workflow. The robust motor is equipped with all conveniences for increased safety and speed. The high speed already makes the work floor a lot safer for people and goods. However, in order to guarantee extra safety, the fast overhead door is equipped with a light curtain that immediately stops the door in case of an obstruction in the opening.
Sustainable from start to finish - recyclable packaging
The general sustainability of operational buildings was the main impulse for the development of the new high-speed sectional overhead door. Even the packaging and shipping have been made as sustainable as possible. For example, the high-speed sectional overhead door is provided with eco-packaging, made of hardened paper and chipboard, which is fully recyclable.
Curious as to how much you can save with the high-speed sectional overhead door??
Calculate your energy savings now!
This energy calculator gives an overview of the potential energy loss of buildings due to the opening and closing of doors during a certain period of time. When using the door energy calculator, use the following values:
Air permeability: Class 3
Thermal insulation: 1,18 W/m2K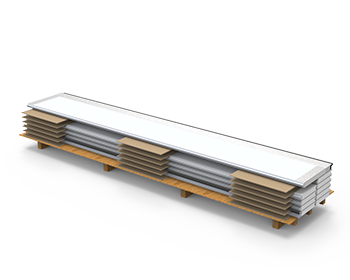 Are you interested in our fast action overhead doors?
The high-speed sectional overhead door can be applied in every organisation, from logistics to e-commerce. Depending on your situation, features such as safety, customisation, and durability are of great importance. Our experienced experts will be happy to provide you with free, no-obligation advice on sustainable construction, smart accessories, and expert maintenance.