Hydraulic dock leveller for easy docking
Our swing lip dock leveller has a modular concept and is easy to operate. This loading bay solution is suitable for situations where standard vehicles operate.
Benefits of the hinged lip dock leveller
Robust folding lip
Safe and low-maintenance hydraulic system
Easy operation
Energy-efficient
Durable, long service life
Modular concept and easy operation? The swing lip dock leveller!
The swing lip dock leveller is designed for efficient and safe loading and unloading process, with minimum downtime. In this way, accidents and damage during loading and unloading can be prevented.
Features of the dock leveller with swing lip
Durable, long-life
The open hinge construction, durable and modular design, self-supporting frame, closed hydraulic system and low operating pressure result in a product with a long service life. Due to this durable design, the dock leveller with hinged lip has a low maintenance requirement.
Optimum safety
The dock leveller with folding lip is equipped as standard with several safety features to ensure the safety of your personnel and goods. The dock leveller is CE marked and complies with the safety aspects of European standard EN 1398
Simple one-button operation
This new generation modular dock leveller is operated with a single button. When used in conjunction with the "Auto-Return" button, once the loading process is complete, the dock leveller will automatically return to the start position.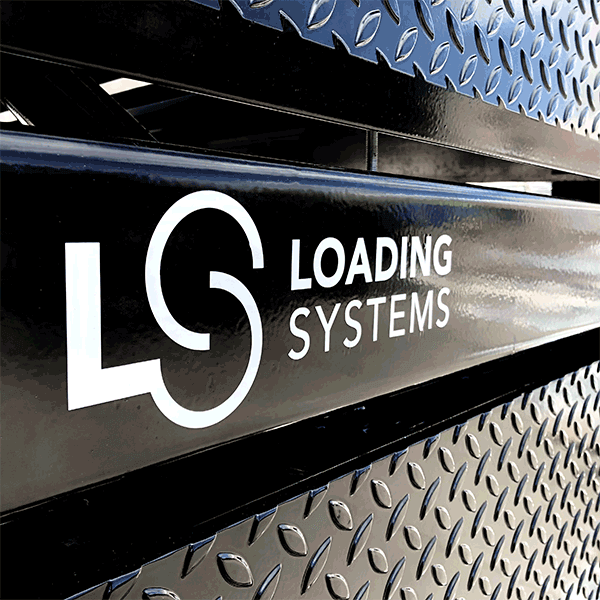 Powder coated as standard
All Loading Systems dock levellers are supplied with this unique and high-quality protective coating as standard. Powder coating enhances the quality of our dock levellers and protects them against corrosion and weather influences.
Dock leveller for every situation!
Every loading bay and vehicle is different. Loading Systems can supply each dock leveller in different dimensions, load capacities and operating ranges. And because of our full range of options and control methods, we can always offer a suitable solution for every customer-specific situation.
Wide variety of options
Because we fully understand that efficiency, speed, and safety are of great importance, we offer a wide range of options that allow the dock leveller to meet all customer-specific wishes and requirements. Examples include an anti-slip coating, RAL colour of your choice, extended lip, increased capacity, increased IP value etc.
Installation options for customer-specific requirements
Due to customer-specific requirements and architectural elements, we offer a wide range of fitting options, such as a suspension frame, pitbox or iso-frame, to fit the dock leveller to the building floor.
BIM objects: the solution for every challenge
With the hinged lip dock leveller BIM model, you design the optimal loading bay easily, efficiently, and quickly. Get started right away and discover the best options for any kind of loading bay!
Would you rather get advice from our experts?
Want to know more about how the swing lip dock leveller can be applied to your business? Then leave your details and one of our experts will contact you about the possibilities.
Looking for a total solution for your loading bay?
Would you like to know more about our dock levellers? Then read our blog. Are you interested in a total solution for your loading bay? Then download our brochure with all solutions.