The purpose of a dock bumper is simple: to absorb the impact of vehicles in order to protect your loading bay. But why is this so important? The loading bay is in many ways the heart of all your logistics activities. Ignoring damage not only endangers the loading bay, but also the loading and unloading process. Regardless of the sector you work in, you naturally want to ensure that goods flow smoothly. Listed below are the most important advantages of a dock bumper:
Dock bumpers prevent costly damage
An accident can happen at any time. No matter how careful you are, accidents on the loading dock will happen. If the loading and unloading process is not handled properly, hitting the loading bay can be an inevitable consequence. Resulting in major damage. Using dock bumpers for your loading bay is a necessary investment.
1. Damage to the loading bay
Even if the damage caused by a vehicle hitting the loading bay is minimal, repeated accidents can cause major damage to the loading bay over time. This can include the walls, equipment (e.g. dock shelter, dock leveller, etc.), as well as the foundation. The cost of repairing the loading bay can then be high, not to mention the cost of temporarily not being able to use the loading bay.
2. Damage to cargo
A vehicle often collides with the loading bay with an enormous force, even though the vehicle is travelling very slowly. This can cause the load to move violently, which can damage the contents.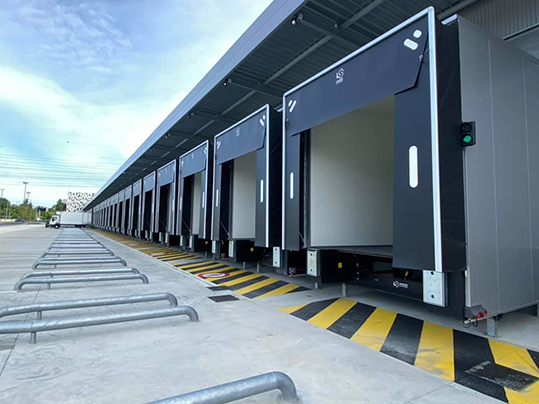 3. Downtime and delays
A dock bumper protects the entire loading and unloading process. Because damaged loading docks can lead to unplanned maintenance. This can cause considerable delays in your logistics activities.
4. Damage to the vehicle
The damage to the vehicle after incorrect docking should not be overlooked. Whether you own the vehicle or not, damage to the vehicle can be costly.
The good news is that all this costly damage can be prevented with a simple solution - dock bumpers! Because dock bumpers are:
Easy to install
Good for the wallet
Durable
Avoid damage to your loading bay - choose dock bumpers!
In every situation the dock bumper prevents damage to the loading bay and the vehicle. Every situation is unique and requires a seamless solution. This is why at Loading Systems we have a wide range of dock bumpers to ensure we always have the best solution for you! Curious about what we can do for you? Please do not hesitate to contact one of our experts.