LED traffic lights; increased safety on and around the loading bay
Traffic lights increase safety on and around the loading bay. For example, the traffic light can be easily connected to the control of the dock leveller, dock shelter, and/or industrial door. But how exactly does this work? The traffic light switches from green to red as soon as the sectional overhead door is opened or when the dock equipment is operated. When loading and unloading are completed or the door is closed again, the traffic light switches from red to green. This lets the truck driver know it is safe to drive away.
Advantages LED traffic lights
Long service life and energy-saving
Strong beam
High shock resistance
Automatic adjustment of light intensity
IP65 water-resistant
Available in 3 models and a signal column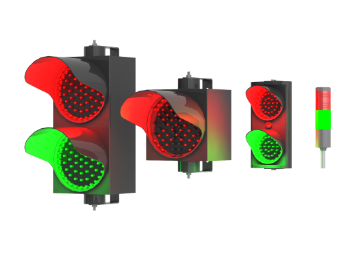 LED traffic lights - in all shapes and sizes!
The traffic lights are available in 3 wall versions and one signal column.
Traffic light 500x250mm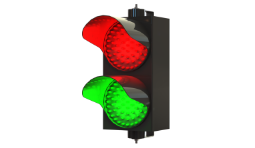 The traffic light with a height of 500mm, is the largest in the range. The traffic light has low energy consumption and long service life thanks to modern LED technology. Thus, the traffic light features lenses with a diameter of 200mm and the average lifetime is between 50,000 and 80,000 hours.
Traffic light 250x250mm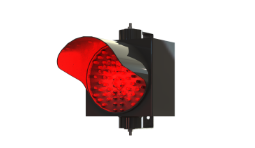 The square variant is very compact and has a combined red cross and green arrow. The lens diameter is 200mm and with an energy consumption of less than 6W, there is quite a bit of energy to be saved.
Traffic light 300x150mm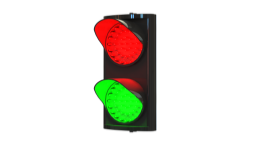 Looking for a small traffic light due to lack of space? Then look no further as the 300mm traffic light is perfect for situations with limited space. The traffic light features two lenses, each 100mm in diameter.
Traffic light 221xø52mm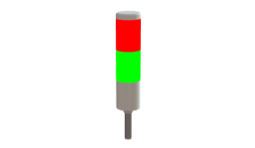 The signal column is the classic traffic indicator and is very suitable for industrial applications. Even though the signal column only has a lens diameter of 52mm, the product has the same lifespan as all other traffic lights in the range (50,000 - 80,000 hours).
Indoor and outdoor signal lights
The traffic lights can be installed both indoors and outdoors.
Exterior traffic lights are green as standard. During the charging process, the red light illuminates to indicate that driving away is unsafe.
Traffic lights on the inside are red by default. The light changes to green when the door is open and the dock leveller is positioned. This indicates that it is safe to load or unload the vehicle.
In addition, the interior and exterior traffic lights can also switch in combination with awheel chock or vehicle detection sensor.