Your business is unique, just like our high speed roll-up doors! Thus, our innovative high speed doors are built to perform under extreme operating conditions. They combine durability, quality, and speed to not only work more efficiently but also more safely. 
With high speed roll-up doors, you make a difference!
Making commercial buildings more sustainable can be done better. And that starts with using the right door. High speed doors are not only used indoors, but are also suitable for outdoor use. For example, high-speed roll-up doors are used to optimise traffic flow, save energy and improve climate control in the building. 
High material quality
A high speed roll up door is an investment that is definitely worthwhile. By using high-quality and specially developed components with long service life, the high-speed door has minimal maintenance costs. Due to the strong door leaf, reinforced side guides, and superior sealing, the doors can withstand high wind loads. Depending on the dimensions, the high-speed roll-up doors can withstand up to a wind class 5 in accordance with European standard EN 12424. 
Durable operation 
A high speed door seems a simple element in the premises. But installing our high speed roll up doors can go a long way in making your premises more sustainable. For example, the doors not only contribute to speed, safety, and hygiene, but also to improving climate control. High opening and closing times and good sealing not only ensure optimum efficiency and speed in your processes, but also that your working environment is well sealed against cold, draughts, and moisture. This directly contributes to reduced energy consumption and lower costs.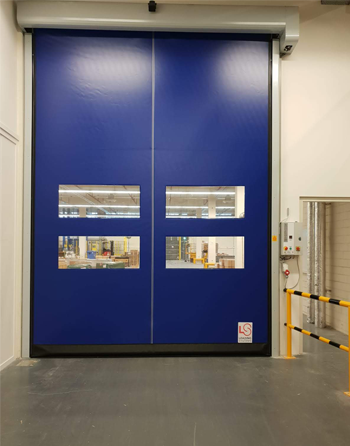 Safe working with integrated anti-crash protection
At Loading Systems, the end-users of our high speed doors are always our main focus. Due to the intensive use of the doors, safety is extra important. Our doors are therefore equipped with an anti-crash safety device as standard. Should the door accidentally be collided with, it detaches from its side guides, and the door leaf automatically returns to the guides after the opening cycle. This not only virtually eliminates the risk of collision damage, damage, and personal injury, but also makes high repair costs a thing of the past. 
Not sure where to start? Loading Systems is happy to help!
With Loading Systems speed doors you can make a difference. We truly have the right speed door for every situation! We can help you step by step towards a more sustainable facility. Contact one of our experts today to discuss your options.