With the winter cold approaching, it is time to think about how best to balance energy efficiency, productivity, and comfortable working conditions. It is important to invest in a solution that protects your facility from seasonal weather fluctuations all year round. Our high speed doors are a perfect solution for this, and in this blog, we would like to tell you more about the advantages of using our high speed roll-up doors in your facility.
What are high-speed doors?
High speed doors are commonly used to create a functional barrier between various rooms in the building. They are doors specifically designed to open and close quickly and efficiently. Many businesses can benefit from high speed roll-up doors, such as shops, cold storage, and automotive and food processing plants.
6 advantages of high speed doors
There are countless reasons to use high speed doors in your building. Here are the six main reasons to invest in high-speed roll-up doors and have them installed in your building.
1. High speed doors improve productivity
For businesses where efficiency, speed, and temperature control are crucial, high speed roll-up doors are an excellent solution. With the doors' fast opening and closing times, there is no need to worry about temperature fluctuations, and streamlined movement between rooms is made possible.
2. High speed doors create a comfortable working environment
Using high speed doors can help improve internal conditions for employees. Due to the extreme speed of the door, there is little room for temperature fluctuations, so employees who consistently work in rooms are less exposed to cold or hot air.
3. High speed doors require minimal maintenance
Our flexible speed doors are low-maintenance and easy to assemble. The doors have a built-in anti-crash system, making them completely self-repairing. This minimises the risk of damage, limits breakdowns, and makes high repair costs a thing of the past. If you invest in good preventive maintenance, the high speed roll-up door can continue to operate trouble-free for many years after installation.
4. High speed roll-up doors are extremely versatile
Whatever sector you operate in, speed doors are an excellent addition to your business. Loading Systems supplies speed doors for both interior and exterior applications. There are also doors specifically designed for areas where hygiene, temperature control, and safety are of paramount importance. The high performance of the speed doors ensures increased efficiency and less downtime.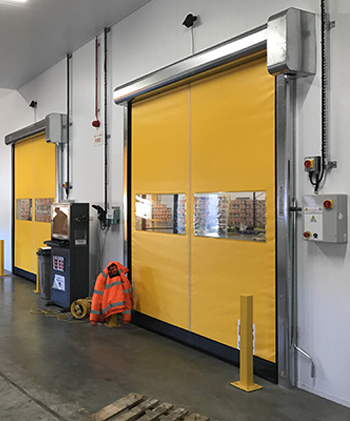 5. High speed roll-up doors make your building more sustainable
There are a number of features that help reduce energy costs; good seals, fast opening and closing time, resistance to wear and tear and wind resistance. Investing in high speed roll-up doors that open and close quickly is a smart choice. Because the longer a door stays open, the more hot or cold air is lost. Thanks to high-quality materials and good seals, the doors not only last a long time but are also very wind-resistant.
6. High speed doors make the working environment safer
High speed doors ensure a safe working environment for your employees. Manual roller shutters are not only hard on your back, but they are also slow and can easily be damaged. High-speed roll-up doors prevent dangerous situations through built-in safeguards. For example, the door cannot close when blocked. A vision strip can also be applied, increasing visibility. High speed roll-up doors are the solution where no compromise has to be made between productivity and safety.
Loading Systems is the specialist in speed doors!
Our speed doors offer so many advantages that they essentially pay for themselves. Wondering what speed doors can do for your organisation? Then contact one of our experts today and they will be happy to explain how speed roller doors can make a difference for your business!