Sustainability is becoming increasingly important in the world. This also applies to companies. An overhead door offers a solution! The overhead door is an important aspect of business premises. The doors are often used in sectors such as logistics, cold storage, e-commerce and automotive. We have previously published a blog about choosing the right sectional overhead door for your business. In this blog, we take a closer look at the sustainability aspect of the door, such as insulation and climate control.
Quality solution for every building? Discover the advantages of our overhead doors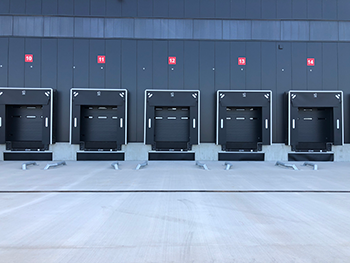 Sustainability has many facets. At the same time, each sector differs and so do the requirements within each sector. Overhead doors can contribute a great deal to sustainability in a relatively simple way, particularly with regard to energy efficiency. For example, the door maintains thermal separation, minimises draughts and eliminates condensation.
Regulate the indoor climate; prevent temperature loss! 
The overhead door ensures that the thermal separation is maintained. This makes the door highly suitable for cold stores or sectors where insulation is of great importance. After all, anyone working in extremely cold or hot air does not want to lose this air. After all, lost air means that the room has to be cooled or heated again, which is not only bad for the environment but also for your wallet. Optimal control of the indoor climate is therefore very important.
Quick passage possible? Our overhead doors open and close quickly!
The well-insulated panels help to close the building. In the logistics sector, unloading takes place frequently and the heat or cold can still escape because the doors are open too long. As a result, there is no separation between the various climate zones. So the insulation value does not say everything. A short opening time is even more important. Because the faster the door opens and closes, the less temperature loss. A few seconds can make all the difference!
High quality materials for a longer lifetime of the overhead door
At Loading Systems we offer an extensive range of sectional overhead doors constructed from high quality insulated steel or aluminium. Parts such as rails, end caps and bottom brackets are always supplied as standard in galvanised steel. However, it is sometimes advisable to have one or more parts in stainless steel, depending on the area of application in which the door is to be used.
Would you like advice from an expert? Then contact us via the form! Our product experts will be happy to discuss all the possibilities with you.
Insulated overhead door: sandwich panels for excellent energy efficiency
The requirements and goals for the sustainability of a building are constantly being tightened. For an actual energy-efficient building, the overhead door must also be thermally sound. If it sometimes feels as if the temperature in your building is fluctuating, then in most cases the overhead door is not insulating properly. This does not only apply to comfort but also to energy costs. For buildings with higher thermal insulation requirements, such as the pharmaceutical or food industries, an insulating overhead door is a very important point of attention. That is why we have specially developed the sectional door with extra-insulating 80 mm panels for situations that demand it. This is the best insulated door from Loading Systems. As a result, the door contributes to excellent energy efficiency.
Characteristics of the extra insulating panel:
High resistance to wind load (class 4)
High water tightness (class 3)
Low air permeability (class 4)
Extra insulating (for 14m2 door surface without wicket door U = 0.86 W/m2K)
Tips for a sustainable overhead door!
When choosing an overhead door, there are various options for doing your bit for sustainability. But what can you look out for when purchasing an overhead door?
Use of windows; maximum light yield and cost-saving
The Full-vision overhead doors are made of high-quality and durable materials. By using transparent infills for the aluminium sections of the door, maximum light output is realised. Due to the natural light incidence, less artificial lighting is needed in the building.
To make the door less maintenance-intensive and more durable at the same time, the bottom section of the door can be equipped with a closed steel bottom section. In this way, the door is less likely to get dirty and damage can be minimised.
Minimising condensation with endless options
Our overhead doors are always made to measure with endless variation possibilities. This way the door is always perfectly adjusted to your situation. Innovative features such as rubber seals and bottom profiles ensure that condensation and draughts are kept to a minimum. Various options give you total control over the indoor environment of your building. In the long run, you can then reduce your energy consumption.
Switching to the latest generation of sectional overhead doors?
Your company develops over the years and so do your activities and wishes. This naturally also applies to logistic solutions. New developments mean that you can not only work more safely and efficiently, but also in a more sustainable way. Because the industrial door is an important part of your logistical process, it is important that it performs as optimally as possible. Have your sectional doors already been in use for a number of years? If so, new technology can make it interesting to replace or modernise outdated doors.
Curious about all the possibilities? Then read on here.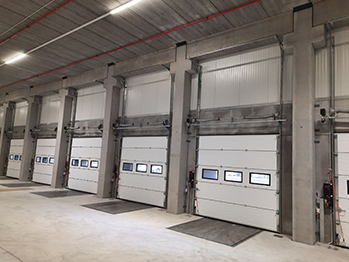 Would you rather talk to one of our experts? We will be happy to advise you, free of obligation, on how a new overhead door can contribute to increased efficiency, safety and durability.
Ask for advice without obligation!