High-speed doors are an important link in your logistics activities and processes. The doors are very popular and are the ideal solution for demanding environments. Think of cold storage, aviation and logistics. In these types of environments, doors are often used intensively and speed, durability, safety and cost savings play a major role when choosing the right industrial door.
Advantages of our high-speed doors
The use of a high-speed door creates an optimum balance between logistical movements, draught exclusion and temperature separation, which results in good working conditions and considerable energy savings.
Rapid opening and closing times
Can be used in- and outside
Saving of energy and related costs
Create a safe working environment
Can be fully personalised because the PVC cloth can be printed in full colour
Curious about the advantages of a fast industry door for your company? Then also read our blog about how our high-speed doors stand for more than just speed.
A high-speed door for every sector: versatile and cost-effective
Loading Systems high-speed doors offer a solution for every imaginable situation within your company. Whether you are working in the retail or food industry. The speed doors are specifically designed for intensive use and can be used in a wide variety of ways. In addition, the doors comply with all European safety requirements.
High-speed doors for the food industry: optimum hygiene
Hygiene, production efficiency, climate control and processing speed are important factors within the food industry. Our high-speed doors are the ideal internal doors because they have been specially developed to work hygienically. The door, for example, has a superior seal that makes horizontal reinforcement profiles superfluous. This makes the door immediately more hygienic and opens and closes much more quietly.
Easy to clean
Available in a stainless steel construction
Improve energy loss by an insulated door leaf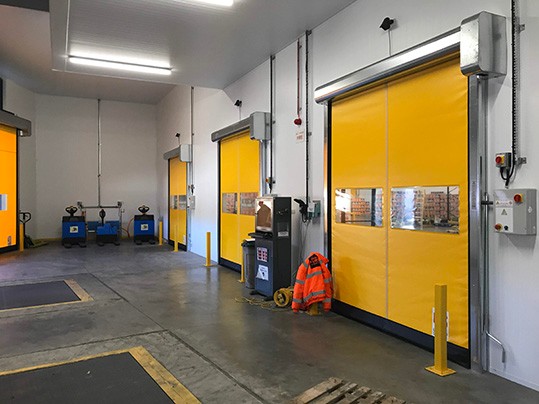 Cold storage: cost-effective solution for cold stores
For cold storage and freezer rooms we have specially designed high-speed doors; the Freeze 1 and 2. These high-speed doors are designed to reduce condensation and/or ice formation on the door leaf.
For temperatures of -35 to +35°C
Reduction of ice formation by energy-efficient electric heating cables
Flexible PVC door leaf without hard elements
Recovering after a crash
Efficient loading and unloading in the logistics sector?
A logistics centre is always in motion. Trucks load and unload goods and work is carried out in the warehouses. It is therefore important in these kinds of environments that all work is carried out safely, quickly and efficiently. Thanks to the use of Loading Systems high-speed doors, a smooth flow of goods can be guaranteed. In addition, efficient loading and unloading of goods is made possible.
Fast opening and closing door for intensive traffic
Retail: increase your customers' comfort
High-speed doors are the ideal supermarket door! They are often used to separate the warehouse from the shop area. This keeps draughts out and increases customer comfort. Due to the fast door cycle and the superior sealing, the high-speed roll door enables better climate control. In addition, deliveries and stock can be moved seamlessly to the shop floor through the high-speed door. The door also has an integrated emergency exit that gives your staff and customers an easy escape route in case of emergency.
Print the door leaf with your logo, promotions or products
Save space with the vertically opened rapid roll door
Safe for the staff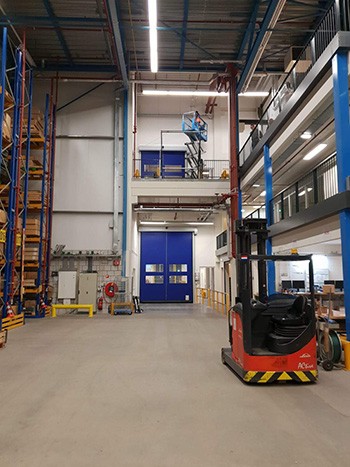 Cleanroom: minimum air movements and maximum hygiene
Clean room environments often have strict requirements on air permeability. For this reason, we have developed a high-speed door for this sector, which contributes to stable pressure levels. In addition, the door limits leakage losses. The doors are usually used in a so-called sluice gate. These are two doors behind each other. In this way, the doors cannot be opened at the same time, which keeps the pressure in your cleanroom optimal.
Limited loss of conditioned air
Maintains stable pressure levels
Tested and certified at clean room level 5
FDA approved
Anti static PVC cloths
Entirely closed drive
Patented magnetic closure
The perfect total solution for every sector
Every company has its own needs and challenges. At Loading Systems we have years of expertise in a variety of sectors. We offer personal advice for every sector. We also have an extensive product range (e.g. dock shelters, dock levellers, loading bay accessories, etc.) which means we have the right access solution for every sector. In addition, our service does not stop with the delivery or assembly of your product(s). We also provide customised maintenance, modernisation and repair services. You are thus assured of the perfect total solution at all times.
Do you want to know more about all the possibilities? Then read on here. Do you prefer personal advice from one of our experts?