Dock lights: increased safety during loading and unloading
Loading Systems' dock lights fully illuminate the inside of the vehicle to be loaded or unloaded. This provides loading personnel with optimum visibility and significantly reduces the risk of accidents.
Benefits of the dock lights
Save up to 90% energy!
Long service life
Durable materials
Housing remains cool during use
Type of loading dock lights
Loading Systems dock lights are available in two models 12VDC or 230VAC. To increase user-friendliness, the dock lights can be integrated in the sequential control panel of your dock leveller, inflatable dock shelter or industrial door. If no control panel is present, the 12VDC version can be supplied with a separate switch box with DIN rail and switch.
LED dock light 12VDC - provides bright and even light
The LED dock light 12VDC works with 6 powerful LEDs. These LED lamps not only provide a bright and uniform light, but also extend the life of the product. For example, the light source has an average lifespan of up to 50,000 hours without having to be changed. In addition, the dock lighting is also energy-efficient by consuming only 24W. So you save up to 84% compared to a dock light with a 150W bulb.
Delivers bright and even light
Aluminium radiator ensures air cooling during operation
Supplied as a set, including swivel arm and cabling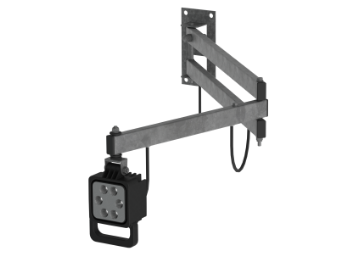 LED dock light 230 VAC - very energy-efficient due to 12W consumption
The 230 VAC version works with 12 powerful LED lamps and is very energy-efficient due to its low consumption of 12W. So you can easily save up to 92% energy compared to a dock light with a 150W bulb. The durable cast aluminium housing is powder-coated in yellow safety colour for maximum visibility. In addition, the small size housing minimises risk of collisions.
Delivers bright and even light
Impact-resistant lens made of tempered glass
Extremely durable metal housing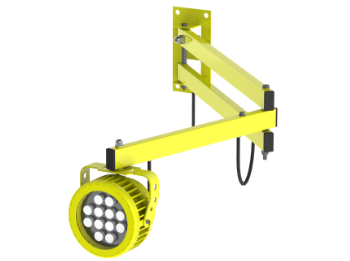 Wondering what dock lights can do for your business? Then contact one of our experts today. They will be happy to look at your needs and requirements.