Over 40% of all entrepreneurs have to deal with a burglary. It is therefore essential that your premises are properly secured against break-ins. But what possibilities are there? In this blog, we give you useful tips for minimising the risk of burglary.
Burglary: every entrepreneur's nightmare
Business premises often contain valuable items, which you would rather not see stolen. Unfortunately, burglary is no longer a rare occurrence. Burglaries do not only take place in houses, but also business premises are a serious target. Partly due to the coronary crisis, the number of business burglaries has increased. More than 30,000 break-ins take place at companies every year. The damage can quickly amount to as much as EUR 100,000. In addition to financial damage, a burglary also has an emotional impact.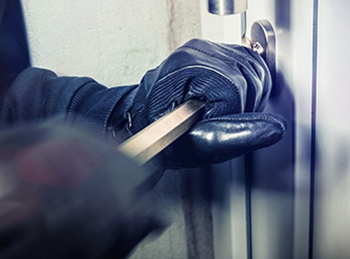 What are the risks?
A burglary can cause you financial as well as emotional damage. The following situations can occur when your company is broken into:
Business interruption: After a break-in, the loading and unloading process may come to a standstill because you have to wait for parts or products. A halt in the process means loss of turnover.
Damage to your business premises: During a burglary attempt, the damage can be limited, but in most cases the damage is extensive. The burglars often smash the place to smithereens. So the burglary is a hassle.
Loss of property/company documents: If the burglary attempt was successful, you will have to replace the stolen stock or even buy new machinery afterwards. In addition, the burglar can also steal company-sensitive information which can lead to a data leak. This damage is irreparable.
Access solutions for intrusion prevention
There are various solutions available to make the loading bay more secure against burglary, so you can minimise the risks mentioned above. Often solutions such as electrical alarm systems are installed, but these can complicate logistical processes. This can lead to delays due to overly long procedures. Therefore, we recommend choosing access solutions that contribute to an efficient loading and unloading process while ensuring safety.
Industrial doors: the ideal burglar-proof solutions
Industrial doors are not only insulating and strong, but are also the way to give unwanted guests no chance. Are you choosing a new door? Then pay extra attention to safety. Below are a number of points that you can take into account.
High-speed doors close in a matter of seconds so that the burglar has no chance to enter the premises.
Industrial doors have a superior seal along the entire opening which guarantees a seamless closure. This prevents the door from being easily broken open with tools.
There are various options for securing sectional doors against burglary, with both manual and automatic operation
An industrial door with windows allows you to work behind the door without having to open the door for daylight. For extra security, you can have the windows placed high in the door so that unnecessary guests cannot see your property.
A man door in the industrial doorway always opens outwards for safety reasons. Pulling techniques are less powerful than pushing techniques so that the wicket door is difficult to force.
By linking the controls of the industrial door and dock leveller it is possible to add a sequential control to your dock. This increases the safety of your employees, reduces energy loss and lowers the risk of burglary, for instance by having the industrial door close automatically after the loading process.
Do you have many people walking in and out and does this mean that the industrial door is often open? Then it is wise to have a wicket door fitted in your door. This will ensure that your valuables are out of sight.
Do you need advice about all the possibilities? Then contact one of our industrial door experts.
Secure your building? Dock shelters against burglary & insulation
Dock shelters are intended to seal the gap between the lorry and the loading bay as efficiently as possible. Due to the thermal separation between the building and dock equipment, the building is more lockable. In this way, the loading bay forms a unit that is difficult to force. Would you like to know more? Read more about dock shelters here.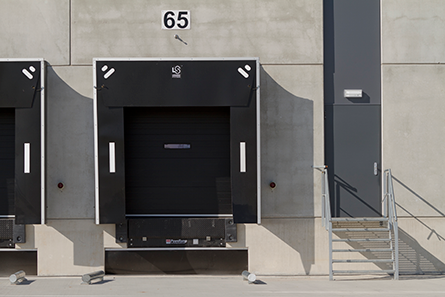 Modernise your loading bay security
Don't need to replace your products yet, but do you want a safer loading bay? That is possible! Industrial doors and dock equipment can be upgraded to the new standards with modernisation kits. For greater safety, upgrades such as replacing the glazing help.
The choice of glazing type is important for intrusion safety. For example, a full vision section can be easily replaced. Depending on other wishes and requirements, the type of glazing can be chosen. If you want extra security against burglary, choose polycarbonate or double-walled SAN UV glazing. Polycarbonate offers the best protection against break-ins.
Loading Systems offers a wide range of modernisation kits. Curious about the possibilities? Then contact us.
Annual maintenance: checking important links
Have your loading bay inspected annually! Not only is it a legal requirement to have your loading bay inspected by a recognised service company once a year, it is also for your own safety and the safety of your employees. By having your installation checked in time, you ensure that defective parts are replaced and you don't give burglars a chance.